Heartland Gems @ Southwest
On July 2nd 2022, LDR Technology Pte Ltd (LDR), SG Digital Office (SDO), and the Singapore Institute of Technology (SIT) launched the Heartland Gems @ South West Augmented Reality (AR) Trail in partnership with Corporate Alliance for Good Ltd (CAforGood). This initiative aims to encourage residents to appreciate the rich history, culture and heritage of the heartlands and learn new digital skills in support of the Digital for Life (DfL) movement.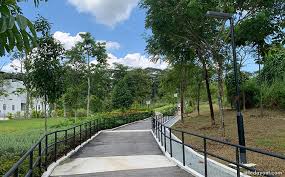 The Bukit Gombak trail features 15 scenic spots, including the famous Little Guilin and local food delicacies at the Neighbourhood Food Centre.

With augmented reality and strategically placed QR codes, residents can learn about the history and stories of the hawkers and merchants, play games, and take fun photos with 3D AR objects.
Experience Locomole's immersive AR trail here!
Download the Locomole app to access our Bukit Gombak trail with 15 featured locations, with more exciting games and information, all at your fingertips.
Check out more fun AR trails too!